McDonald's Malaysia launches Drive-Thru Weekend With Loads of FREE Gifts and Freebies.
Drive-Thru Weekend With FREE Gifts and Freebies
Gear up and start your engines for a weekend of adventure and great rewards.
Be part of history as McDonald's Malaysia creates a record in the MALAYSIA Book of Records for the largest participation for a Drive-Thru Challenge in 24 hours on 27 April 2019.
This 26 – 28th April, make your way to your closest Drive-Thru for the Drive-Thru Weekend with loads of FREE gifts and freebies to take home. You definitely don't want to miss out on this amazing weekend.
Campaign: Join the Drive-Thru Weekend at any nationwide Drive-Thru locations and get Free gifts with every purchase you make.
*While stocks last. One receipt is only entitled to one toy and one gift card.
**French Fries (M) will be given instead at restaurants that do not serve McFreeze.
As Easy as 1, 2, 3:
– Place your ORDER at the voice-ordering machine.
– Make your PAYMENT with cash or debit/credit card.
– Collect your order and enjoy your food!
Drive-Thru Hero Challenge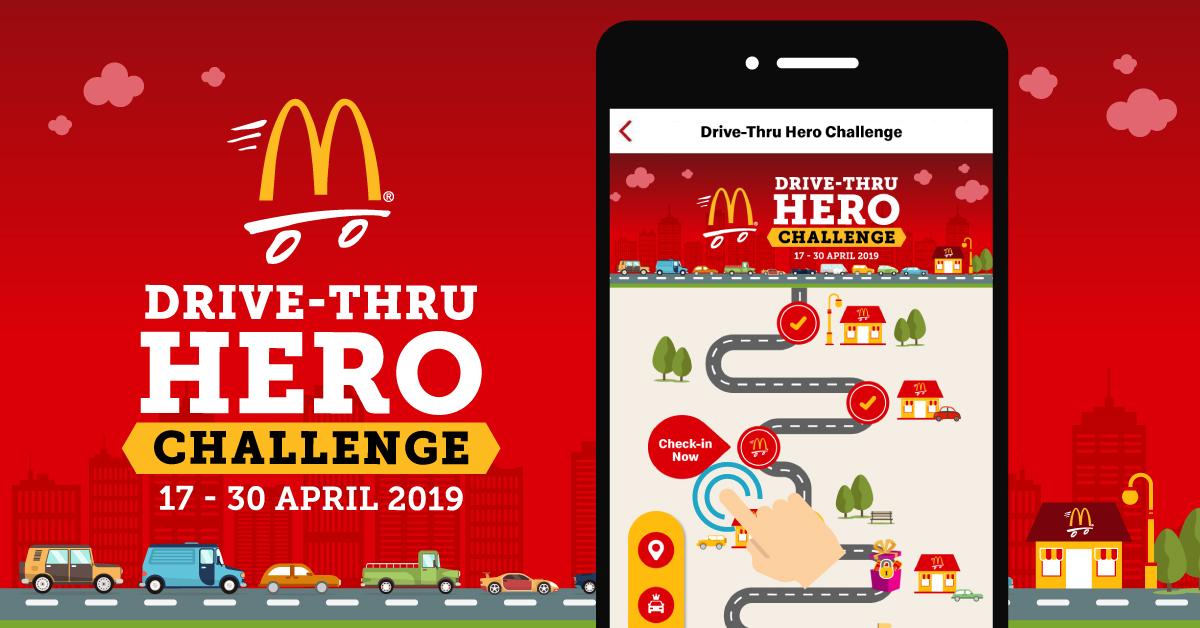 Are you the hero we're looking for? Think you've got what it takes to become our Drive-Thru Hero?
McDonald's is looking for Malaysia's Top 10 Drive-Thru Heroes in April. Visit and check in as many McDonald's Drive-Thrus from 17 – 30 April to win instant prizes and cash money.
Drive-Thru Aje Lah!

How to Join?
Step 1: Download & launch your McDonald's App.
Step 2:  Tap on Drive-Thru Hero Challenge!
Step 3: Click on 'Let's Drive-Thru' to start your adventure!
Step 4: Click on Check-In now to identify your nearest McDonald's Drive-Thru restaurant.
Step 5: Navigate to your nearest McDonald's Drive-Thru restaurant from the suggested list.
Step 6: Upon making an order at the Drive-Thru window, click 'Check-In' after you have made your purchase (min RM 20).
Remember to collect and check your points as you visit other Drive-Thru restaurants.
1 Stop = 10 Points
5th Stop = 1 x RM1 Chicken McNuggets (6pc) Ala Carte
10th Stop = 1 x RM1 Ayam Goreng McD Ala Carte
15th Stop = 1 x RM1 McChicken Ala Carte
20th Stop = 1 x RM1 Spicy Chicken McDeluxe Ala Carte

Terms and Conditions:
– Each participant can only check-in once at every Drive-Thru location.
– Repetition of Drive-Thru location stops are only counted as one.
– Participants are required to make a purchase at the Drive-Thru each time they check-in. Receipt of purchases will be required for prize redemption verification.
– Each successful check-in at a McDonald's Drive-Thru is worth 10 points.
– Customers will earn 3x points during the Drive-Thru Weekend from 26th April 2019 to 28th April 2019.
– Top 10 Drive-Thru Heroes with the highest points collected by the of 30th April 2019 will win cash equivalent of the points accumulated.
– 10x Consolation Winners (Top 11 to Top 20) will receive a RM 50 McDonald's Cash Voucher.
– Customers with the same number of points at the end of the challenge will be ranked by the earliest achiever.
– Drive-Thru Hero Challenge will run starting from 17th April 2019 to 30th April 2019.
– Winners will be officially announced 3rd May 2019.
– McDonald's Malaysia reserves the right to end the Challenge earlier or extend the Challenge Period at its own discretion.